Small cafes get to allow smoking again
While outgoing Minister of Health Ab Klink blew up his own political career recently with his yes-no-yes-no behaviour at a crucial moment, now one of his biggest political accomplishments is being turned over: the smoking ban.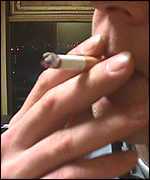 After fighting tooth and nail, small cafe owners with no staff will be allowed to smoke and allow smoking in their establishment. Although the smoking ban has been in effect since 2008 and there have been creative people with small cafes fighting it, the first nation-wide exception is coming up. This is a big 'international sign of friendship' salute to Mr Klink.
Besides the obvious monetary arguments, protecting staff again smoking when you don't have staff is nonsensical. The Netherlands is funny that way.
(Link: dutchnews.nl)