An interactive history of KLM's house-shaped genever bottles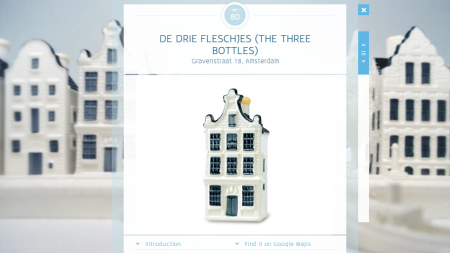 First you follow the link to the cute little Delft blue houses, and then you can click on any of the 91 bottles and find out what house it is and where. Most of them can be found in Amsterdam, but a few of them are from towns like Amersfoort, Delft, Breda and Schiedam.
I spontaneously clicked on number 81 and got 'proeflokaal' (roughly 'tasting pub') De Drie Fleschjes (The Three Bottles) in Amsterdam pictured above (here is what it looks like today). Ironically, it is a place to sample gin and have a drink.
What I thought was odd though is that there is the same house twice (11 and 23), another 'proeflokaal' in Amsterdam, Wijnand Fockink. I think the makers of the site made a mistake, as 90 is a much nicer number.
(Link and image: klom.com, via amsterdamadblog.com)
3 Comments »
Thank you for bringing my attention to this charming website! I had no idea that KLM gave away these little houses (never been able to afford a ticket in that class!) so this is delightful. I was even more thrilled to see that I recognise lots of the houses from my travels in the city. Thank you again!

Comment by Zissa — December 8, 2010 @ 3:56 pm

[…] Earlier we wrote about a KLM website which also tells the story of the airliner's Delftware houses, although the site does so (from what I can tell) in less detail than the book. […]

Pingback by 24 oranges » Look behind 94 gables of KLM's Delftware houses — December 23, 2013 @ 10:43 am

[…] KLM has been well-known for their house-shaped bottles of genever for decades, Amsterdam company Local Makers, which sells 3D printers, has launched a Kickstarter […]

Pingback by 24 oranges » Delft blue houses made with 3D printers — September 14, 2017 @ 6:25 pm