Art student = 1, Louis Vuitton = the big goose egg, (O)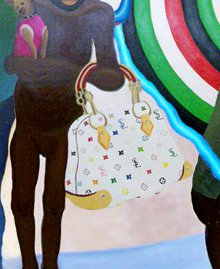 The verdict is in: Amsterdam based Danish artist Nadia Plesner who attends the Rietveld academy in Amsterdam successfully defended herself against major French brand Louis Vuitton. Plesner used a depiction of an LV bag in a painting entitled Darfurnica for which Louis Vuitton tried to sue her for 5,000 euro a day for using their image.
"The court in The Hague ruled that Plesner's right to freedom of expression through her work weighed more heavily than Louis Vuitton's right to protect its property. The use of the bag in the painting is both functional and in proportion, the court said," according to Dutchnews. Case closed.
(Link: dutchnews.nl, Photo: Nadia Plesner)