'A webshop run from home deemed technically illegal'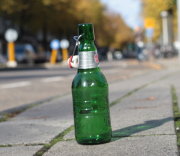 Some judge in Den Bosch ruled that a webshop that sells alcohol from an industrial building was illegal because they should operate from a building marked as a retail shop or proper warehouse. The city is reviewing this decision, as it would also imply that any webshop run from a home would be illegal because a home is not location for this purpose. Imagine a physical liquour store taking a competing webshop to court and the latter losing because they aren't run from an actual shop.
In the case of alcohol, the webshop cannot properly check how old someone is (an easy argument), but if this applies to all webshops — it probably won't but imagine — some rules are going to have to change because they'll give people a bigger headache than any booze could. Most webshops in the Netherlands are run from homes and the entire idea of having to be in a physical shop is preposterous.
(Link: www.z24)
No Comments »
No comments yet.