Philips sells home entertainment division to Gibson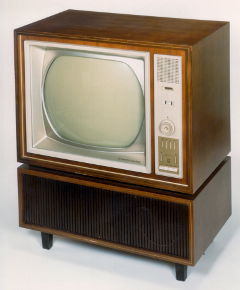 Dutch electronics giant Philips has taken the last step in shedding its home entertainment division.
None other than the equally iconic American manufacturer of guitars, Gibson, has decided to take over the division, after an earlier attempt to sell the division to Funai from Japan allegedly failed. Gibson will be paying 135 mln USD for the business and will be paying separately for being allowed to continue using the Philips brand, Z24 writes.
The Philips home entertainment division excludes the television division, which Philips already sold to TPV from Taiwan in 2012.
When Philips was still a manufacturer and not just a brand, it invented things like the compact cassette, the CD, the ghetto blaster and even electronic music. More recently spin-offs operating from Philips Hi-Tech Campus (formerly known as Natlab) were working on e-paper displays. The company remains active in lighting, home appliances and medical equipment.
(Photo of the first Philips colour TV from 1964 by Philips, used with permission)
No Comments »
No comments yet.