Journalistic portraits of photojournalists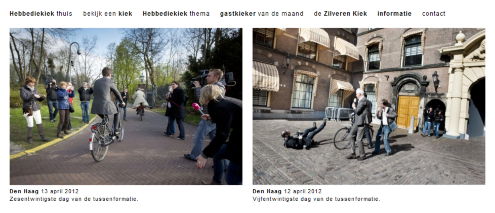 Hebbediekiek is a web site of six photojournalists in The Hague (the seat of government of the Netherlands) that publish action shots taken of their colleagues. It's basically them zooming out a little so that you don't just see the 'actors' of politics, but also the 'crew'.
The site drew some national attention when it recorded a photographer tumbling (see screenshot, top right) when he was trying to get a shot of Prime Minister Rutte trying to make his getaway on a bicycle. Krapuul.nl suggests that Rutte is driven by a chauffeured limo to these sort of affairs, and he only bikes the last few hundred metres.
Hebbedekiek—'hebbe die kiek' with the spaces in all the right places—means either 'get that shot' or 'gimme that shot', 'kiek' being the Dutch word for 'snapshot' and usually used in the diminutive, 'kiekje'.
(Illustration: screenshot of hebbediekiek.nl. Link tip: Jeroen Mirck.)