Asparagus advert from Limburg is an ode to fellatio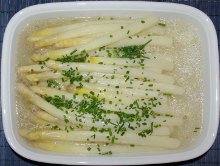 As my co-blogger Branko who comes from asparagus country himself put it, "I don't think we can abstain from writing about this Limburg promo". And when it comes to gobbling up asparagus, why go for a soft sell, right? Enough puns from me, watch the video.
And if you thought white asparagus looked like a small Caucasian male, you'll enjoy this banana version parody. In fact, the people who made the advert could be going for a cheap viral, as you don't need any words to get this message across.
(Link: trendbeheer.com, Photo by Wikipedia user Janericloebe who released it into the public domain)
No Comments »
No comments yet.