The top 10 ugliest places in the country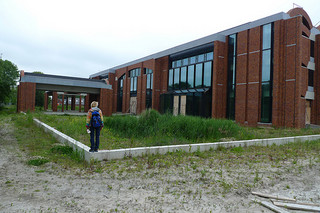 On 14 May, a Dutch television show will let viewers vote for the ugliest place (shopping mall, train station, etc.) in the Netherlands. The short list includes Zoetermeer's Central Station, shopping mall passage way Brinkman in Haarlem and shopping mall Stokhorst in Enschede. They will be the top three in whatever order, while the 4th to 10th place have already been chosen.
Co-blogger Branko gets to see Zoetemeer Central Station often enough (is it that bad?), while I've had the pleasure of seeing 5th place winner Bos en Lommerplein in Amsterdam with a caved in parking lot that took months to fix and put people out of their homes. The entire place is also a wind tunnel.
Other 'winners' also seem to have been plagued with problems: the Scheringa museum (shown here) in 7th place was never finished, has had legal problems, and is up for sale.
(Link and photos: www.welingelichtekringen.nl, Photo of Scheringa museum by Karavaan, some rights reserved)