Calling your boss a 'f****** whore' shouldn't get you fired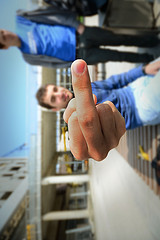 The Dutch use English swear words all the time now, including at work where an employee of food wholesaler Sligro called his team leader a 'fucking whore' (in Dutch, 'fucking hoer') and was fired on the spot for it.
The employee who had been working there for 10 years was all like fuck this shit and sued his employer. Usually, in the Netherlands if an employer wants to fire an employee they have to go to a judge to ask permission, except when it is down on the spot according to severe guidelines. The story goes that a group of employees had issues with the team leader and like the Dutch say, the tall tree catches the wind.
Not only does the employee get their job back if they want it, but they will also be paid for the time they could not work. Yes, it's not nice to call your superior a 'fucking whore', but it's not grounds for dismissal, just grounds for some finger wagging.
On a similar note, back in 2011, a Dutch court ruled that ACAB was not insulting to cops, an abbreviation meaning 'All Cops Are Bastards', which was tattooed on some guy's body while another guy had it printed on a jacket.
(Link: www.welingelichtekringen.nl, Photo of Middle finger by Jone Samsa, some rights reserved)