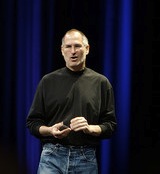 Venus, a yacht designed by the late Steve Jobs, former CEO of Apple, together with French product designer Philippe Starck and put to water in Aalsmeer, North Holland has been impounded in Amsterdam. Starck claims that Jobs only paid him € 6 million out of the € 9 million fee he was owed by the Jobs family.
"The entire cost of building the yacht was reportedly about $130 million. The yacht itself is between 230 and 260 feet (80 metres) long."
According to DutchNews.nl, the boat is literally chained to the dock.
UPDATE: As of 24 December Jobs' heirs reached an agreement and the yacht has been unchained.
(Link: mashable.com, Photo of Steve Jobs by acaben, some rights reserved)
Tags: Aalsmeer, Amsterdam, Apple, Steve Jobs, yacht