Many Amsterdam museums open on 1 January 2013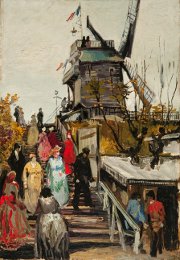 Everybody has some sort of party on New Year's Eve, but what to do on New Year's Day when you live in the capital and the town gets too quiet? Make going to a museum with friends and family a New Year's resolution. Or there's also the zoo, catching a film and some other tourist attractions.
The year 2013 will be a special year for Amsterdam as the city celebrates several milestones. The refurbished Rijksmuseum and Van Gogh Museum will reopen, the Artis Royal Zoo will celebrate its 175th anniversary and the Amsterdam Canal Ring will celebrate its 400th jubilee.
Rijksmuseum (11 am – 5 pm)
Hermitage Amsterdam (including Van Gogh Museum exhibition) (11 am – 5 pm)
Foam (noon – 6 pm)
Stedelijk Museum (11 am – 5 pm)
Museum of the Canals (10 am – 5 pm)
Anne Frank House (noon – 7 pm)
Jewish Historical Museum (opens at noon)
EYE Film Institute Netherlands (opens at 1 pm)
Artis Royal Zoo (10 am – 8 pm)
Madame Tussauds (opens at noon)
(Link: www.dutchdailynews.com, Illustration: the Van Gogh that was 'discovered' last year)
No Comments »
No comments yet.