Eindhoven nails first place in cruiser class at World Solar Challenge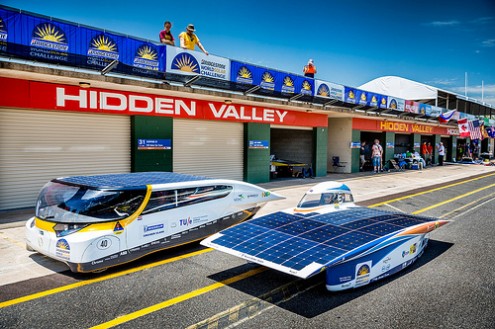 This week a solar-powered street legal car named Stella, built by students from the Eindhoven University of Technology, was entered into the World Solar Challenge in Australia and won first place (PDF) in the new cruiser class.
While earlier this week students from the Delft University of Technology won for speed, the Eindhoven crew won for practicality, "with the ultimate goal of an entrant being able to meet the requirements for road registration in the country of origin."
Why would a rainy country like the Netherlands even want to become a heavy hitter in solar-powered cars, you may wonder. "The Netherlands has enough sunlight to drive about 70 kilometres a day, given that the average drive only drives about 38 km/h. If you charge up the battery, you can drive 430 kilometres, which is a lot," says Van Loon, one of the Eindhoven students.
(Link: www.kennislink.nl, Photo of Nuna7 and Stella by Jorrit Lousberg, some rights reserved)