Dutch house owners spend their holiday bonuses on mortgage payments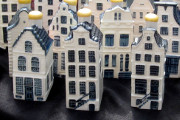 ABN Amro's mortgage portfolio has decreased by 0.3 billion euro because house owners have been making extra payments using their holiday bonuses, the troubled bank writes in its interim financial report for 2013 (PDF, page 41).
Z24 discovered this titbit and adds that according to TNS Nipo (a polling company) 1 in 5 home owners would like to make extra mortgage payments. Dutch banks generally penalize extra payments above a threshold of 10% to 15% of the loan.
Dutch employees have a right to a holiday bonus of 8% of their annual salary. Employers usually pay this bonus in May before the summer holidays start.
House prices in the Netherlands have been declining for a couple of years now, resulting in a negative balance: home owners, especially young ones, owe the bank more money than their home is worth. Z24 says that home owners use their holiday bonuses to help pay off their mortgages partially because the interest on savings accounts is at a very low point. These extra payments are not enough, the financial news site says, to counter the declining house prices.
No Comments »
No comments yet.