Hofman's giant rabbit burnt by accident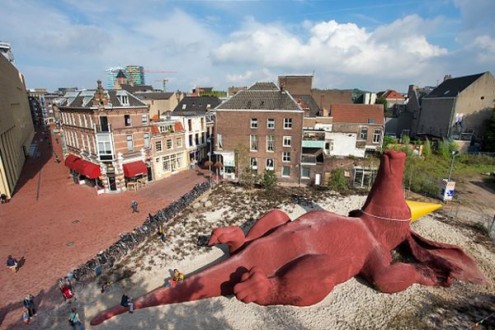 Rotterdam-based Dutch artist Florentijn Hofman, known for his giant yellow rubber ducks and huge plush toys around the world, has had his big bunny rabbit in Taiwan burnt by mistake.
Firefighters claim that the fire which torched the 24-metre-tall rabbit, created for the annual Taoyuan Land Art Festival, was ignited by welding sparks from workers disassembling festival structures nearby. Local authorities might seek compensation from contractors for the blaze.
Commissioned by the Taiwanese government, Hofman's latest installation project had been hugely popular, with more than two million visitors to the festival paying a visit to the giant rubber mammal. The 'moon rabbit' is a symbol of altruism and love in the legend of the Chinese Mid-Autumn festival, which took place on September 8.
Other fun creations by Hofman include big slow slugs and a festive aardvark (picture above).
(Link: www.scmp.com, Photo: www.florentijnhofman.nl)