Authorities score cobra vodka during search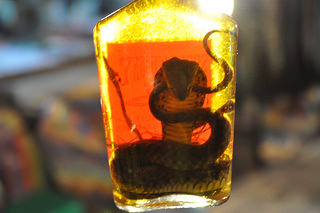 The Netherlands Food and Consumer Product Safety Authority recently paid a visit to a few locations in the city centre of Amsterdam and made some interesting finds. They confiscated some ivory artworks, 19 stuffed animals and four bottles of cobra vodka, the latter of which is highly illegal and a bit scary if you ask me.
According to the author of the cobra vodka in this picture, which is surely similar to the one that was confiscated:
"It's Laotian rice whisky in a bottle with a very dead cobra in it. I've seen pictures of such snake wine in Vietnam and was surprised to notice that the concept exists in Laos as well. The belief is that the spirit of the snake inside will make you as strong as a cobra and give you more manly virility. I'd probably reluctantly drink a shot if given to me in a shot glass without the snake, but looking at this bottle with the snake inside does make this super creepy."
(Link: www.nieuws.nl, Photo of cobra vodka by shankaronline, some rights reserved)
No Comments »
No comments yet.