The Delta Works are due for an upgrade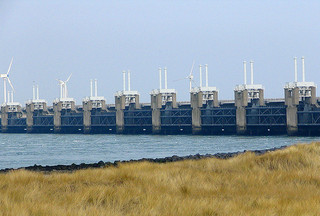 Last Tuesday the Netherlands unveiled a multi-billion-euro, multi-decade plan to counter the biggest environmental threat to the nation: surging seawater caused by global climate change.
For centuries, the Dutch have battled the waters of the North Sea that have at times flooded large swathes of the country, particularly in its southwestern Zeeland province. After a disastrous flood in 1953 which left almost 2,000 people dead in Zeeland, the Dutch built a system of dams, storm surge barriers, dykes and other water-management projects, known collectively as the Delta Works, to keep the sea out.

But a growing population, growing industry and climate change have necessitated a 'new Delta plan,' Schultz van Haegen said as she unveiled the details in The Hague. A study by the Dutch National Environmental and Living Institute, released last week, showed one in three dykes or dams did not comply with current safety standards.
Wikipedia tells us that the Delta Works have been declared one of the Seven Wonders of the Modern World by American Society of Civil Engineers.
See also Dutch dike protects national archives in Washington.
(Link: phys.org, Photo of Delta Works by Coanri/Rita, some rights reserved)
No Comments »
No comments yet.