Carnival hits 2015: swearing, creepy fitness and fake leather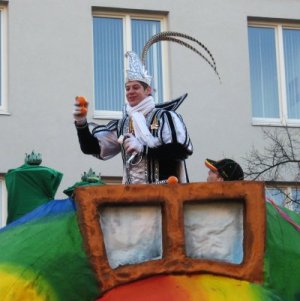 Carnival is less than a month away, so it's time to fire up some wacky carnival hits for 2015.
FeestChaos ('Party Chaos') starts us off with an English-language carnival song called 'Who The F*** Is Alice', a reworking of Smokie's song 'Living Next Door to Alice' from 1977 and Nijmegen band Gompie's next level 1995 version 'Alice, Who The F*** is Alice?'. You'll see cafe singing, drinking and dancing, a Hummer limo, children swearing and some serious devoicing of consonants, which makes every 's' sound like that snake in the Jungle Book.
Vieze Jack ('Dirty Jack') gives us the corny pun named song, 'Jump 4 Jack'. Dirty Jack looks more like a zombie than a pervert, but acts like a pervert channeling a blond version of Elvis imitating a zombie. You'll see men in drag, tits, ass, balls, and a Scotsman with a kilt, bagpipes and no underwear. The song is not too bad, the lyrics are all easy sex puns and the bagpipe riff works for me. Contains 1980s style sexual harassment at the gym and, as an added bonus, some zoophilia.
Although the song is unoriginal, Alberto pokes fun at the very recently former mayor of Maastricht, Onno Hoes. Alberto probably refers to Hoes' ex-husband Albert. The song is called 'Onno (mag ik je toyboy zijn?)' ('Onno, can I be your toy boy'?) and relates to his recent demise. The unfaithful and not very discreet Hoes was hanging in there as the mayor until some young 'toy boy from Almere' told the media stories about him and Onno getting together. The mayor's exuberant sex life led to a vote to push him out of office. He survived the vote, but eventually resigned.
You'll see some of the Village People, carnival costumes and a disco ball effect. The idea of the song is better than the song or the video. The lyrics are a bit nasty, but points for being 'politically relevant'.
(Link: nieuws.nl, Photo of the carnival Prince in Sittard, Limburg throwing oranges)