A non Rembrandt stolen from not quite Philips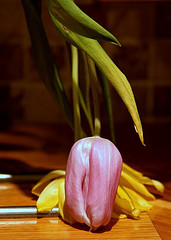 On 8 August the news was that a Rembrandt had been stolen in March 2014 from the Philips family (the one from the company) from their villa and kept quiet because of protocol. Then, the Rembrandt was not stolen from the Philips family, but from an insurance company. And now the painting isn't a Rembrandt, but said to be from a pupil of Rembrandt depicting Titus van Rijn, his son. Oh, and the Philips villa De Laak belongs to the Philips company and no longer the family.
An ex cop has been said to be the fence for the stolen painting, having tried to inform his ex colleagues of the theft back in 2014 and not being taken seriously. The whole story is still unclear, so we'll keep you posted once the interns have stopped mucking about with it. You'll notice many news sources haven't bothered to correct any of the original information, which says a lot about them as well.
(Links: www.omroepbrabant.nl, www.volkskrant.nl, Photo of wilted tulip by Graham Keen, some rights reserved)