Cool bulb shades and hot cardboard furniture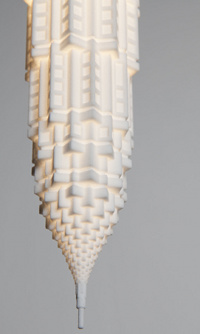 Stalaclights are bulb shades that look like famous buildings designed by Dutch designer David Graas. A play on words with the mineral formations 'stalactites' (stalagmites are the ones on the ground pointing upwards), these bulb shades are 3D printed and resemble some of the first skyscrapers of New York, Chicago and more. The shade can be placed over the bulb, as the lighting is LED and therefore doesn't burn through.
Graas also makes street furniture you can laser cut and 3D print out yourself. The "I'm Too Sexy For The Sidewalk" series consists of three different furniture designs you can download for free and produce yourself using cardboard found on the street.
(Link: www.neatorama.com, Photo: www.davidgraas.com, one of the Petronas twin towers in Kuala Lumpur, Malaysia)