Carnival song says refugees came for the beer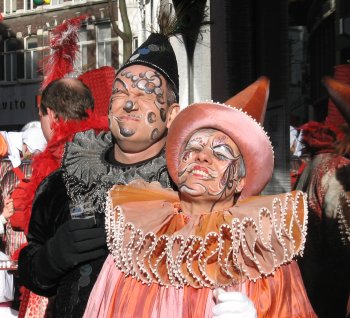 Noord-Brabant student singers Grenzeloos Gek have made the news with their carnival song 'Vluchtelingen uit Aleppo' ('Refugees from Aleppo'). They can't sing on key and dance around a touchy subject, but so far they've not caused any actual controversy except for fueling the annual carnival lovers vs. carnival haters ping pong online.
Here's a rough translation of the chorus:
"Refugees from Aleppo, over the mountains so high
Refugees from Aleppo, farmers, bakers and biologists
They're coming here for four days of beer."
It's about a bunch of white male Dutch students drawing attention to themselves with a sub-par song using a ripped off melody and a hot topic. It's about drinking beer and having fun and singing as flat as a carnival beer. The song amusingly implies that refugees drink beer when in fact a lot of them probably don't and didn't flee for their lives for a few watered down carnival beers with frat boys. I'm still wondering if this would have worked with a bunch of white Dutch girls: depending on their looks, they'd been written off or tolerated because of them.
Last year we had a few zingers. We'll keep you posted this year.
Refugees from Aleppo is sung to the tune of the famous Dutch song 'Una Paloma Blanca' by George Baker Selection, better known by the younger generations for 'Little Green Bag'.
Listen to 'Refugees from Aleppo' at your own risk, I couldn't get through the video.
(Link: www.omroepbrabant.nl, Photo of Maastricht carnival 2008)
No Comments »
No comments yet.