Watch and listen to a marble tsunami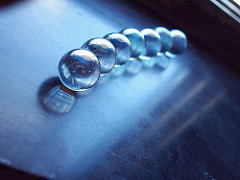 Need a break from cat videos? Back in 2015 Jelle Bakker from Amersfoort built a Mouse Trap-like course at Monkey Town in Gouda for 11,000 marbles all rolling around at the same time.
Bakker, who is autistic and loves building things for marbles, built his contraption using wood planks and floor heating conduits. He says he likes the sound the marbles make as they go over different parts of the course.
I bet Jelle would like this wooden dinner table with a built-in marble track.
Watch all these marbles turn into a tsunami:
(Link: www.ad.nl, Photo of Marbles by Meghana Kulkarni, some rights reserved)