Amsterdam abolishes discriminatory youth minimum wage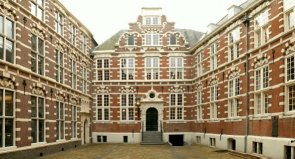 Amsterdam is the first Dutch city to finally put an end to the discriminatory practice of paying employees between the ages of 18 and 23 only 45% of the adult minimum wage.
The Netherlands is one of the few European countries where this practice was commonplace, something that is illegal in many Western countries. The city will start by adjusting the salaries of younger people who work for the city. Although the city of Zwolle, Overijssel started doing this before Amsterdam, Amsterdam is making more serious adjustments according to the youth workers' union who has been pushing hard for change.
In April of this year the Dutch government decided to lower the youth minimum wage from 23 to 21, but yeah, that's still discrimination. I have yet to hear a good argument besides exploiting young people for this wage discrepancy.
(Link: www.parool.nl, Photo of the VOC HQ (East India Company) by Josh, distributed under the terms of the GNU Free Documentation License, Version 1.2)