Ajax FC send 27 crates of beer to Scots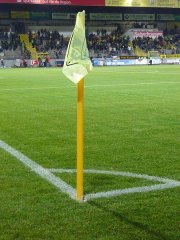 Amsterdam's football club Ajax has sent 27 crates of beer to Scottish club East Kilbride FC of South Lanarkshire to congratulate them for breaking Ajax's world record of most games won in a row last Saturday by winning against BSC Glasgow FC.
Former goalkeeper and now Ajax's general manager Edwin van der Sar recorded a video message to congratulate the Scots telling them to 'have some beer on us'.
A truck full of beer, Belgian Jupiler beer, basically Stella's big brother, was driven right onto a dark and cold pitch with patches of snow.
Enjoy this classy football moment in English:
(Link: www.at5.nl, Photo by Wikimedia user Carolus Ludovicus, some rights reserved)