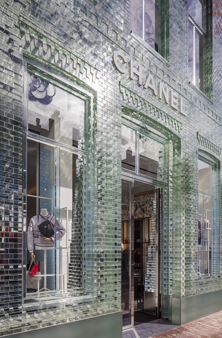 A few days ago, the fanciest shopping street of Amsterdam, the PC Hooftstraat, inaugurated a glass façade at the Chanel shop, attracting a lot of attention from passers-by. The creators, Rotterdam studio MVRDV, apparently used pioneering glass technology to replace the brick front of a former townhouse with a transparent replica.
MVRDV explains that the glass bricks are held in place with a transparent high-strength glue, and the construction is in many ways, stronger than concrete. Higher up the building, the glass elements merge with the original brickwork to create the illusion of a dissolving wall. Every change in daylight can now be seen, and the sun changes the aspect of the façade.
"Until the 1950s, the PC Hooftstraat was a residential street, and slowly turned into a shopping street with big brand names and foreign tourists. Eventually it plans to become as famous as the Champs-Élysées in Paris or the Ginza in Tokyo, but for now it is still busy transforming itself from provincial shopping street to international shopping street.
(Link: www.dezeen.com, Photo: www.architectenweb.nl)