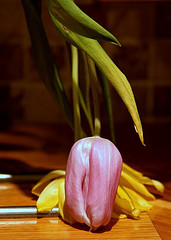 A gym in Wormeveer, North Holland has refused entry to a client with PTSD and his service dog simply because the man is not blind. The gym client is a former local neighbourhood agent that suffers from PTSD as a result of having dealt with many life-threatening situations, including trying and sadly failing to save children from a burning house.
His PTSD meant the end of his career, but going to the gym should not be a stressful situation. The dog is welcome everywhere else he goes, and yes, he has filed a complaint of discrimination. Before it went that far, the man and the gym owner discussed the situation, but the owner wouldn't budge.
Service dogs are sometimes denied entry to businesses by mistake, simply because business owners don't know the law. However, if someone has a service dog, it's usually for a damn good reason, and they don't have to be blind to get one. The dog is trained much in the same way and it taught to stay calm, so the only issue is the owner's reluctance.
And this, folks, is how you lose clients.
(Link: waarmaarraar.nl, Photo of wilted tulip by Graham Keen, some rights reserved)
Tags: discrimination, dog, gym, PTSD