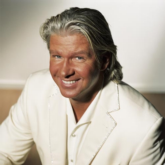 Ah yes, Dutch singer Dries Roelvink does it again, all while teaching everyone else the importance of backing up your work.
According to Dutch TV show RTL Boulevard, he went out to grab a bite with his assistant and realised he forgot his backing tapes. He went back to the bar where he performed and lo and behold, the tapes were gone (shock). However, he did leave his phone number on the tapes (aaah) and hopes to get them back before his next show (stress).
And since back ups are for mere mortals, Dries never made any. What's today's lesson, children? Always back up your work, no matter who you are.
UPDATE: Thanks to TV show RTL Boulevard, someone found the tapes and returned them. Dries, back that stuff up now.
(Link: at5.nl)
Tags: Dries Roelvink