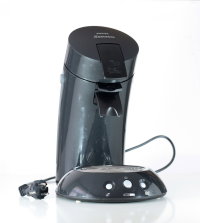 Consumentenbond compared the prices of making a single cup of coffee in regular households and came up with the following figures, according to Z24 (Dutch):
Instant: 3 euro cent.
Regular (using a coffee filter): 4 euro cent.
Aldi pods for Senseo: 5 euro cent.
Albert Heijn pods for Senseo: 7 euro cent.
Official Douwe Egberts pods for Senseo: 9 euro cent.
Nespresso: 33 euro cent.
Of course, the real coffee snobs own (or want to own) their personal espresso machine. Senseo pods are called pads in the Netherlands, but when Philips and Douwe Egberts decided to export their product they wisely chose to avoid any associations with women's hygienic products. The Albert Heijn figure was added by me.
I switched to Senseo myself, because using the regular method you never end up with just a single cup, and instant coffee is just vile.