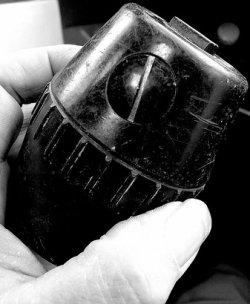 It's déjà  vu time, as grenades like to hide in potatoes.
A standard fragmentation hand grenade used by Americans in WWII was found in a bunch of potatoes at a potato processing plant in Dronten, Flevoland today. Dozens of bombs, bullets and grenades from the war are found every year in this area.
Here's an upbeat video about finding grenades in potatoes in Europe, with an interesting find at the Netherlands' biggest amusement park the Efteling earlier this year.
(Link: www.dutchnews.nl, Photo of grenade by macspite, some rights reserved)