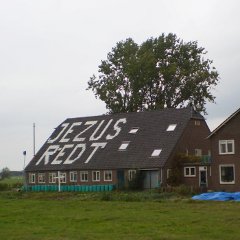 The Council of State decided last Wednesday that farmer Joop van Ooijen must remove the text "Jezus redt" (Jesus saves) from his roof or else he'll be fined 15,000 euro.
The welstandscommissie of the municipality of Giessenlanden—a typically Dutch abomination that gets to rule on the beauty of any outdoors construction—had outlawed the Christian slogan before. The Council of State (1531) is the highest court of appeal for administrative decisions, and is formally presided by the non-elected Queen.
Van Ooijen told De Volkskrant he will appeal the decision. According to the council, an appeal is not possible.
Update: As Arnoud Engelfriet points out in the comments, the appeal will likely be at a European level.
See also:
(Public domain photo by Wikipedia user Apdency)