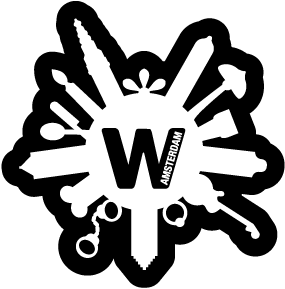 The Warmoesstraat is one of the oldest streets of Amsterdam and the gateway to the famous Red Light District. The street's business association wanted to see the wares it sells reflected in its seasonal lighting, and therefore ordered the manufacturing of lights in the shape of condoms, handcuffs, magic mushrooms and so on. But it wasn't to be: due to a construction error the light that would have been revealed tomorrow turned out to be too heavy to be hung.
The lighting idea was the result of a competition held by the business association and won by Toko 73 and Coolpuk, who also came up with a new logo. I also liked the idea of Carmela Bogman to use LED lights to create an understated, moon-shaped display that would bring visitors back to a darker bygone era, thereby underlining the age of the street—although the actual designs were a bit "Ot en Sien" (tacky).
Illustration by Toko 73 and Coolpuk.