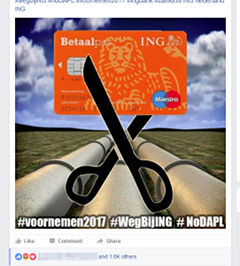 Over the past few days, stuck among the daily river of memes, one stood out because friends were making a commitment: they were going to cancel their account with Dutch consumer bank ING over the bank's investments in the controversial Dakota pipeline.
Frances Ro started talking to ING on their Facebook page and made a very simple demand: "Show me that you're on the right side of history. Prove that you won't let large interests stand in the way of a livable planet. Let's say that we'll find a solution before 1 January. If not, I'll be your ex-customer from that day on."
Ro's problems with ING's investment are that the Dakota pipeline allegedly endangers the drinking water of millions of people and destroys territory that is culturally significant to the Standing Rock Sioux tribe. According to her, ING has invested 250 million USD in the project.
ING ummed and ahed in response, suggesting they were hoping the controversy would go away by itself: "We have confidence in the proper administration of justice and the careful consideration of the case by the US government."
The bank seems to have found itself in a perfect storm. Together with ABN Amro and Rabobank it is one of the big three consumer banks in the Netherlands. Lately, savings banks like ASN and Triodos (who claim to only invest in sustainable projects) have branched out into the payment business and new banks like Knab (owned by insurer Aegon) have also been nipping at their feet. Consumers have stayed loyal so far to to the banks that lured them in during their childhood, until now they've found a reason to switch to more modern banks. The joint banks even have a service that should make switching banks as easy as possible.
So far Ro's plea got shared well over a 1,000 times, with several people reporting they've already abandoned ING.
(Illustration: screenshot of Ro's Facebook post)