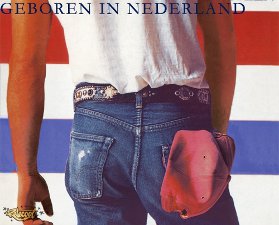 As you may have read, after the Rutte government attacked "entarte Kunst" it is now promoting "Blut und Boden" music. Dutchnews reported yesterday that "MPs on Thursday evening voted in favour of a quota for Dutch language music on Radio 2, the public broadcaster which focuses on popular music. The motion, drawn up by Martin Bosma from the anti-Islam PVV, requires programmers to make sure 35% of the music played on Radio 2 between 07.00 and 19.00 hours was produced in the Netherlands."
The folks at the Amazing Retecool blog have used their regular Photo Fuck Friday to try and imagine what famous record covers would look like if all music had to be in Dutch. Shown here are Bruce Springsteen's Born in the Netherlands by Ohjajoh and Foreigner's Double Passport by Gelul.
Meanwhile, Radio 2 have announced that they have no intention of adhering to any quotas, NRC reports. Two weeks ago minister Marja van Bijsterveldt announced that public broadcasters will have to take cuts of up to 127 million euro.
Tags: parodies, politicians, politics, pop