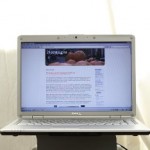 Dutch tech journalist and author Daniël Verlaan, who recently hacked the lights on Rotterdam's Erasmus Bridge, has now crashed an online secret meeting of the European Ministers of Defence.
Verlaan popped in and people started laughing. The President of the Council, Spain's Josep Borrell Fontelles, said "Somebody has gone into the system! Who are you?" The President made a crack to the meeting participants about 'having to invest in secrecy', which is spot on. Verlaan said hello, identified himself as a Dutch journalist, said sorry, and quickly left.
Before he left, he was told "You know that you have been jumping into a secret conference?" (sic) […] It's a criminal offence!" said Fontelles.
How did Verlaan do it? Dutch Minister of Defence Ank Bijleveld had posted a picture on Twitter where five digits out of the six digits of the meeting login code was visible, and the last one was found 'in just a few tries'. Apparently, there wasn't any additional security, either.
The meeting was then stopped because it was no longer confidential. Cue a good rant about online security.
(Link: rtlnieuws.nl)