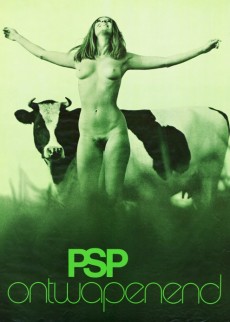 In 2006 this poster was elected best political poster of the Netherlands of the past 90 years. It was used in 1971 by the Pacifist Socialist Party (PSP), one of the predecessors of GroenLinks, for the lower house elections. The caption reads 'Disarming PSP'.
The photo was originally taken for sexual reform magazine Sekstant, but designer George Noordanus surmised that it could also help create a storm of protest among Christians whose political parties supported the Vietnam war, but opposed innocent nudity, thereby exposing their hypocrisy.
Although it did just that, the raised profile did not help the PSP as it lost half its seats in the lower house after the elections. Support for the poster was also divided within the party, as some members considered it sexist. Ironically enough, it was the sexist argument that in the end helped seal the deal. As one member put it, "workers like naked chicks."
Both Ayaan Hirsi Magan (ex VVD, liberal) and Femke Halsema (GroenLinks, 'green left'), political opposites, see the poster as a symbol of their ideals.
See also this site about election posters in the Netherlands.
Tags: 1971, cows, Pacifism, politics, posters, public nudity, Religion, Socialism