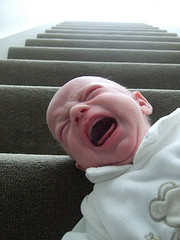 On Tuesday 1 April legislation kicked in that made the partner of lesbian mothers gain equal rights as the parent of their child. For the longest time, the 'second' mother (or co-mother) had to go through a costly adoption procedure in order to become the legal parent of their partner's child. The procedure lasted at least 6 months, cost at least 1000 euro and was very stressful. If something happened to the child in the mean time, the co-mother had no rights whatsoever, turning the child into an orphan. Thanks to this change in the law, children of lesbian parents have rights that equal those of children born of heterosexual couples.
Before, only the birth mother was considered the mother and a second mother had no legal rights. When a heterosexual couple adopted a child or went through artificial insemination, the father just had to sign some papers and never had to go through any kind of adoption procedure like gay women did.
Once marriage is made legal for homosexuals, the next step is taking care of such parenting issues, so foreign countries, take note.
(Links: www.welingelichtekringen.nl, www.coc.nl, Photo of Crying baby by Chalky Lives, some rights reserved)