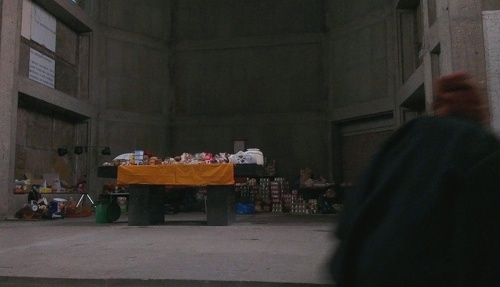 Put aside what the media is saying, forget what people think, good or bad, about the group of mainly Somalian rejected asylum seekers who cannot go back to their country, and ignore Sinterklaas, your gift giving urges, your 'aah how sad, those cold asylum seekers' and let me tell you what it's like. This national drama is playing out 5 minutes from my warm office, so I gathered some food and beauty products for the women (more fearful of going out than the men) and took a walk.
There's some snow falling from the sky on a dark and dreary Amsterdam day in December. A neighbourhood church abandoned for a long time is currently housing a group of about 30 asylum seekers who have exhausted their right to appeal. The church is just a cement block and it's cold. There are tents being set up inside for the men and the women have separate quarters with beds. There are no children. The mood is neutral and grey, much like the inside of the church. Some Dutch women are serving hot soup, there's a café bouncer at the door of the church to make sure the 'wrong people' don't come in. There's a Dutch girl bundled up in a chair next to him who I suspect is doing the Twittering. I run into an acquaintance bringing food.
I had a few laughs with one of the men heading out to the supermarket with a young Dutch woman and said he should tell her what he wants for dinner so they could get more rice and less macaroni. I wished him good luck and thought about coming by again, hopefully with more useful supplies.

Follow what's going on in De Vluchtkerk on Twitter as well, especially to find out what they need.
(Link: De Vluchtkerk)