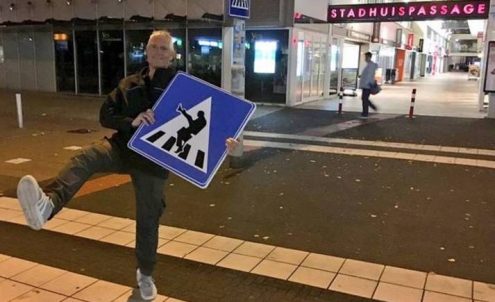 Spijkenisse, South Holland, the city of the fake euro bridges, has officially unveiled a special pedestrian crossing sign at city hall today, featuring none other than a nod to John Cleese as the Minister of Silly Walks in the famous Monty Python sketch of 1970. The sign depicts a man wearing a bowler hat and carrying a briefcase who is about to take a funny step to cross the street.
A local bureaucrat heard about a similar sign in Haparanda, Sweden, and as a fan of British humour figured why not have such a sign in Spijkenisse as well. And since according to him weird things happen at city hall, having the sign next to his place of work was fitting. Crossing the street at one of the city's busiest intersections with a smile is also a good idea. And regardless of how funny your walk is, traffic still needs to stop for you.
Back in 2016 we told you about hundreds of fans of British comedy legend John Cleese showing up for the opening of a Silly Walks tunnel in Eindhoven.
(Link and phote: nos.nl)
Tags: John Cleese, pedestrians, silly walks, South Holland, Spijkenisse