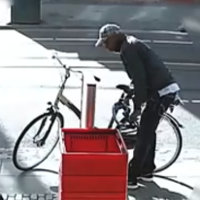 Since last week the Amsterdam police are looking for a shoplifter who changed his mind while robbing a Kruidvat drugstore located in the De Pijp district.
Initially the man tried to steal a tablet computer that was stored in a display case, but later changed his mind. He left the fancy gear behind and took off with somebody's printed photos. The man took off on a bicycle.
The video below shows the man entering the store and taking the tablet from the display case.
My theory is the man came in to collect his photos, saw an opportunity to acquire a tablet he had no money for, then realised the bulge in his jacket would look suspicious at the register. OK, so it's not a very good theory. What do you think was in those pictures?
The video doubles as a free instructional film on Dutch bicycle etiquette. The shoplifter first secures the rear wheel using his wheel lock, then does the same using a chain lock.
(Photo/video: Politie.nl (YouTube))
Tags: dumb criminals, police, prints, shoplifters, shoplifting, tablet computers, tablets, thieves, YouTube