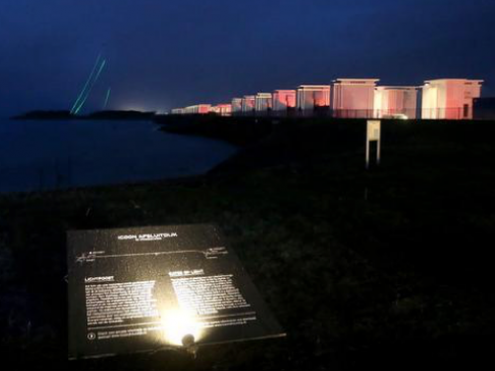 For many of us who have driven the 32-kilometre-long Afsluitdijk from North Holland and Friesland (or the other way around), it's a short cut with a great view of the water and sheep. However, historically, the Afsluitdijk is a key part of the country's world-famous sea defences, as well as a major Dutch accomplishment.
Yesterday, Dutch artists unveiled a design and light show to highlight this feat of engineering, called 'Icoon Afsluitdijk' ('Icon Afsluitdijk'), which shines at night "to enhance and safeguard the dyke's rich heritage and anchor its position in the world as a Dutch water engineering and design icon," according to its creators.
The project consists of a number of art installations, of which the last one is called 'Gates of Light', created by Daan Roosegaarde and his team. They applied a reflective layer to the Afsluitdijk's 60 floodgates, which allows the concrete gates to brightly light up at night in the retro style of the 1930s, when the dyke was first built by hand.
The Dutch have lit other important landmarks up, such as the Kinderdijk, UNESCO World Heritage Site, with colours matching the Dutch flag.
Tags: Afsluitdijk, Daan Roosegaarde, engineering, Friesland, North Holland, water defences