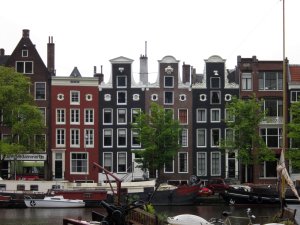 The Economist has been keeping track of the development of house prices for a while now and this recent graph neatly shows the house price bubble the world is slowly getting out of.
What may surprise you to know is that the Netherlands, typically known as an economically stable country, is one of the worst offenders when it comes to driving up prices to insanity level 11. What is worse, is that unlike most of the world's nations, the country will see only little decrease of house prices in the near future.
Hendrik Oude Nijhuis looks even further back than The Economist in an article for Z24. He points out that in the past 400 years, house prices in the Netherlands have always followed inflation. Sometimes they rose more quickly than inflation would dictate and sometimes they would lag behind inflation, but they would always go back to a happy medium. Houses in the Netherlands are now 75% more expensive than the historic average, which is a record.
House prices have been decreasing slowly since 2008, but as you can see in the first chart, the process is slow. One giant brake on the current housing market is that the current generation of first-time homeowners is in a bad fix. On the one hand, these young house owners got in when the prices soared, meaning they bought expensive houses, and on the other, they took out mortgage loans that they are not paying off. The result is what Oude Nijhuis calls 'submarine mortgages', loans where the collateral is worth way less than the amount owed. This generation (Oude Nijhuis says there are 1.7 million of these submarine loans against 4.3 million privately owned houses) is unable to move on even if it wanted to. Home owners cannot afford new houses and yet if they buy one, they will take a loss on the old one.
Add to this toxic mix the fact that politicians don't want to be seen touching interest deductions and you have the recipe for an unhealthy housing market for years to come.