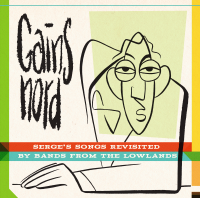 OK, there is one Belgian band, Zeker Weten, who does their thing in Flemish, but it works wonderfully, as does the rest of this original and unexpected compilation. Dutch artists such as Leine, The Spinshots and Juicebox, and Belgian artists (both French and Flemish) such as Suarez and Tom Barman & Guy van Nueten have joined in covering the master of contemporary French music himself, Serge Gainsbourg.
Brought to you by Dutch journalist and DJ Guuzbourg (aka Guuz Hoogaerts) who is now on his fourth compilation, has tried and succeeding in convincing the Dutch (the Belgians were convinced eons ago) that French music doesn't make you feel inadquate, it makes you feel groovy.
Now comes the name dropping. The official CD presentation of Gainsnord (a term coined by our very own Branko of 24oranges) will be launched at Paradiso, Amsterdam on 18 September with local band West Hell 5 playing live (also on the album), DJs and VJs of the Amsterdam Beat Club, including yours truly, DJ Natashka. The cover was illustrated by comicbook artist Hanco Kolk and designed by graphic artist Martin Draax, bassguitar player of the Spinshots.
Update: Gainsnord website with music.
Tags: Amsterdam, Gainsnord, Hanco Kolk, Paradiso, Serge Gainsbourg, Spinshots, West Hell 5