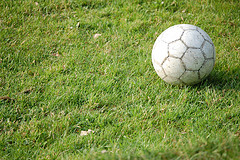 World-famous Dutch tattoo artist Hanky Panky (Henk Schiffmacher), who by the way is celebrating his 65th birthday and 40 years of tattooing at pop temple Paradiso in Amsterdam later this month, will be drawing the design on the Dutch championship (aka 'Eredivisie') football.
The football he will design is for the 2017-2018 Dutch championship season, done specially for the 60th anniversary of the Eredivisie and should represent Dutch culture.
According to Wikipedia, Hanky Panky is an expert in the field of body art, having curated exhibitions, written books, and presented TV shows on the subject. And he's given tattoos to the likes of Anthony Kiedis from the Red Hot Chili Peppers, Kurt Cobain (RIP) of Nirvana frontman and Lemmy (RIP) of Motörhead.
(Link: footballstories, Photo of Football by Bramus, some rights reserved)