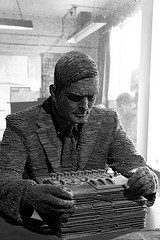 Jeroen van den Bos and Davy Landman from the Centrum Wiskunde & Informatica (CWI), a world-renowned scientific research institute specialised in mathematics and computer science, built a LEGO Turing Machine for the CWI's exposition "Turings Erfenis" ('Turing's Legacy') in honor of Alan Turing's 100th birthday this year. The institute is known for creating the popular programming language Python, which is used by Google, while cwi.nl was one of the first national domain names ever issued in the world. The CWI played a pioneering role in connecting the Netherlands to the World Wide Web.
Enjoy the short documentary below and in true nerd fashion, you can read all about the making of this documentary by Andre Theelen right here.
"Alan Turing was an English mathematician who was highly influential in the development of computer science, providing a formalisation of the concepts of "algorithm" and "computation" with the Turing machine, which played a significant role in the creation of the modern computer," say Wikipedia.
LEGO Turing Machine from ecalpemos on Vimeo.
(Photo of Alan Mathison Turing by Garrettc, some rights reserved)