André Kuipers to stay half a year in space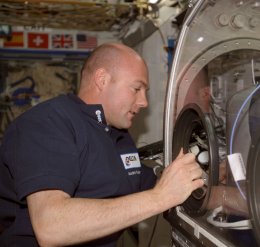 André Kuipers has been to space before, but according to De Telegraaf (Dutch) this time the Amsterdam medical doctor is scheduled for a half year stay on the ISS as part of expedition 30/31. He should be launched to the space station in a Soyuz TMA space craft (seats three) in December 2010.
Kuipers went to space before as an ESA astronaut on a 10-day trip in 2004 on top of a Soyuz rocket. He was the second Dutch astronaut, following in the footsteps of Wubbo Ockels. I remember his launch rekindled my interest in space exploration back then, and I am only a jaded 41- year-old. Imagine how Dutch kids will respond to seeing a countryman in space.
(Photo: NASA)
1 Comment »
[…] was recently selected for a half-year stay at the International Space Station starting December […]

Pingback by 24 oranges » Engineering shorts — October 6, 2009 @ 7:40 pm