New monthly comics magazine Por Dios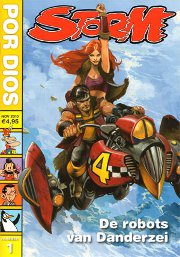 Eppo publisher Rob van Bavel has added a new comics mag to his stable, called Por Dios.
It will contain the same sort of comic strips that adorn his other publication, with a twist: the comics in Por Dios have been published before. Every issue of the monthly will contain one complete long story. The upshot is that Van Bavel can now publish stories by authors that are dead (Don Lawrence, De Smet) or retired, and that new generations can be introduced to the classics.
The name comes from the tag line of Eppo precursor Pep: "Por dios, what a magazine!" The price per issue is 5 euro, while a 12 issue subscription can be had for 50 euro.
The November issue kicks off with Storm adventure De robots van Danderzei (The Robots of Danderzei, 44 pages), a very straightforward "what if a society of sentient robots is introduced to talking meat bags". I am not a Storm fan, but I think this is a good choice. The characters are so flat they need no introduction (the roles of hero, strong man and beauty are immediately obvious), and Storm is a flag ship comic for Eppo.
The first issue also contains four-pagers of De Generaal by Peter de Smet en Agent 327 by Martin Lodewijk, and a bunch of smaller comics. Van Bavel claims the magazine is aimed at the whole family, though there are those that have reason to doubt the statement. Certainly bi-weekly sister magazine Eppo is not.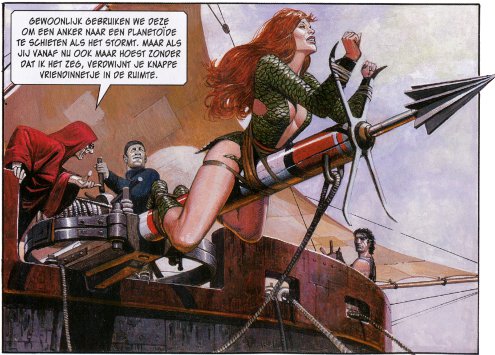 Illustration: Don Lawrence. Storm is a very straightforward space opera, with the back story of Buck Rogers and the cast of Valerian (although a strong man/warrior was added at the start of the Pandarve story line). Here we see nameless heroine Red Head tied to a giant penis which will destroy her if it goes off.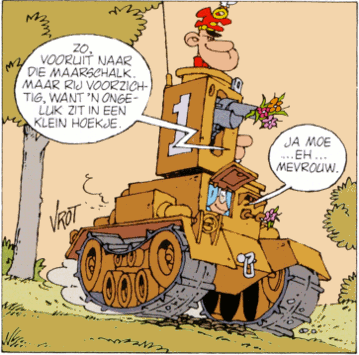 Illustration: Peter de Smet. De Generaal (the General) wants to be grand-vizir, er, Field Marshall instead of the Field Marshall. With his little tank he attacks the Field Marshall's fort week after week, but his schemes are always foiled. De Smet was no Goscinny, but his stories are still immensely fun to read. Finding out who is who in the large cast of minor characters is a joy in itself.
(Link: Moors Magazine)