'Sailor girl' Dekker hopping like a flamingo across Pacific Ocean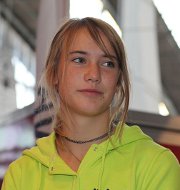 Laura Dekker, the 15-year-old who is busy circumnavigating the globe by herself on her trusty ketch Guppy, has reached the island of Hiva Oa, half-way the Pacific.
I visited the Atuona village where I was welcomed by the mayor right upon arrival and I have since already collected three flower necklaces… The people here are really very friendly, and they find it sad that they could not organize a big party for my arrival because they did not know the time of my arrival. Actually, this is exactly the reason why I did not want them to know in advance. This way my trip becomes a lot more fun and spontaneous.
Earlier this month Dekker got a nasty cut on her foot when a big wave threw her into her cabin: "If I avoid standing on my foot, the pain is bearable, and I am now quite busy practising the flamingo stance."
Today Dekker hiked up the volcano ("once you are in the clouds, it gets colder and there are fir trees growing everywhere, which really doesn't make me think that I am now in the middle of the Pacific Ocean"), so I am guessing the foot is coming along fine. If the New Zealand born Dutch girl manages to reach her point of departure five days before her 17th birthday, she will be the youngest person to have solo sailed around the world, an honour currently held by Jessica Watson of Australia.
Hiva Oa has a population of just under 2,000 people and is the place where both Paul Gauguin and Jacques Brel spent their autumn days.
See also: