Different kinds of noise: looking back on 2015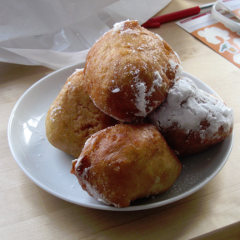 The year 2015 was the year of 'concerned citizens' who made a lot of noise whenever different looking asylum seekers threatened to appear. However, that didn't stop us from finding some great stories in 2015.
One way to escape this annoying din is by taking an airplane and flying above it, except that planes taking off and landing actually produce a lot more sound than you'd think. For this Schiphol Airport came up with an ingenious landscaping solution.
We like to write about beautiful things when we can. Did you catch the video of opera singer Ambrož Bajec-Lapajne undergoing brain surgery? In order to check whether the surgeons were keeping important areas of the brain intact, the tenor sang parts of Schubert's lied 'Gute Nacht' during the operation.
Jolene Carlier designed a cool little popcorn maker and Hendrik Willem Mesdag once wrote a sweet love letter on the back of a tiny landscape painting, discovered only this year.
A friendly civil servant in Utrecht thought his parks were too clean for the team building exercise brewer InBev had in mind for some of its employees, so he put some litter back in. Just what politicians, multinationals and pundits alike needed – they all fired up their outrage engines.
Single and same-sex parents are still experiencing many problems not only raising children, but also getting them in the first place. Single women are systematically excluded from IVF treatments and gay couples find that the world gets increasingly smaller when it comes to surrogacy (external link, Dutch). Currently three baby hatches in the country, with plans for more, allow mothers to safely abandon their baby.
The oldest living bonds in the world were issued in the Dutch Golden Age to pay for dikes and other works that control the flow of water. An American university travels once every generation to Houten to collect a few euro in interest from the local water board and to keep their bearer bond alive.
It was also a good year for dogs who got their own money. Unfortunately for them, it's counterfeit money.
(Photo of oliebollen by Andy Smith, some rights reserved)
No Comments »
No comments yet.