Just in time for summer: frikandel ice cream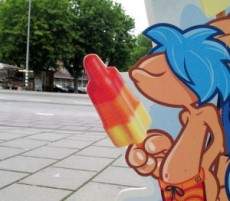 Just last week we told you about the 'frikandellen vlaai' and many other frikandel-related 'inventions', but we can now call it a hype.
Joining in is Roberto Gelato from Utrecht with a video of the owner listing off other frikandel delights such as pizza-frikandel from Urk, but then what about Utrecht, he says to the camera. Well, Utrecht is going to make frikandel ice cream!
According to Waarmaarraar, the ice cream is ready to roll. Foodies could combine it with Van Gogh potato ice cream and be all set.
(Link: www.waarmaarraar.nl)
No Comments »
No comments yet.