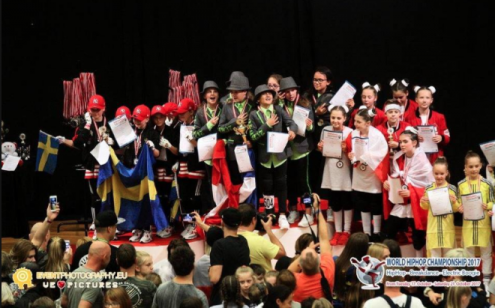 Last week the girls from the 2crew4u from Hoofddorp, North-Holland won the Hiphop World Championship 2017 in Copenhagen.
In an interview with two girls of this group of 11-12 year olds came the answers "I didn't know what to think" and "I had to let it sink in", both level-headed Dutch reactions. "Why is this group so good?", asked the reporter to the coach in the video linked to this story. "The group is very disciplined and had a goal and went for it".
Sadly, the group is breaking up. Some girls will move on to higher levels, some will stay at the same level and others will leave and do other things, not unlike their non-dancing peers. Follow the story link for a look at their performance.
(Link: nhnieuws.nl, Screenshot: HiphopWorldChampinshipCopenhagen2017)