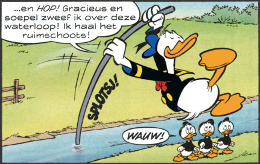 The Dutch weekly Donald Duck magazine celebrates its sixtieth birthday this year by having the Duck family visit the provinces, Parool reports.
The first of these celebratory issues is in the stores right now. In it Donald and Daisy re-enact the story of the sunken city of Stavoren. If that sounds like the recipe for a classic Barks-like adventure, forget about it. The Friesland themed story has all the charm of a copy-written widget factory brochure.
See also:
Illustration: Donald Duck and his nephews (Kwik, Kwek and Kwak in Dutch) busy fierljepping (a Frisian word that means far-leaping, demonstrating nicely the close relationship the language has with English), source Donald Duck magazine.